PHOTO TOUR OVERVIEW
Four-day Great Ocean Road Photography Tour.
Great Ocean Road Photography Tour, 5 Days – Photographing at Victoria's Great Ocean Road is always a great challenge. Unpredictable weather, exceptionally moody light and wild terrain all create the perfect base on which a landscape photographer has to be most creative.
For this Great Ocean Road Photography Tour we are travelling in a comfortable air-conditioned vehicle and doing a circuit trip along the Great Ocean Road and around the extraordinary coast of Port Campbell, 12 Apostles, Gibson Steps, Loch Ard Gorge, The Razorback, The Island Archway, Hopetoun Falls, the Californian Redwood forest and more. This tour begins and ends in Melbourne.

With over 40 years of experience in the photographic industry, award-winning professional photographers George Triantafillou and Karolin Schild are guiding you to the best photo spots around Great Ocean Road and some unique locations.

We will meet at the Sky Bus drop-off point Southbank, Melbourne CBD (opposite Crown car park ), and start our journey of the day at 10:00 am for a sunset photography workshop along the Great Ocean Road.

In the following days, after photographing and watching the sunrise in the mornings, we will visit various amazing photo opportunities along the Great Ocean Road coast.

We finish the tour by photographing our last sunrise and breakfast (not included) and then driving back to Melbourne (late arrival expected).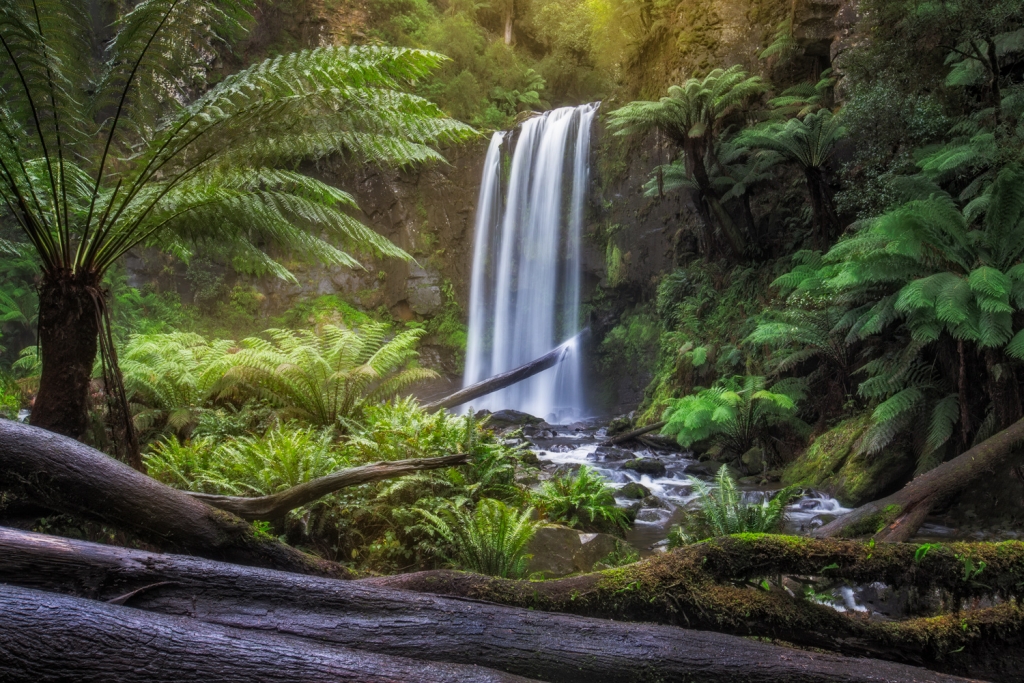 What to expect:
How to photograph stunning waterfalls.

When and how to use a polarizing filter.

How to prevent lens flare.

Long exposure techniques – playing with shutter speeds for different effects.

Understanding lens distortions and strategies.

Composition inspirations and Equipment advice.

How to make a picture look more interesting and exciting.

Balance your photos for better results.

Understanding different light conditions.

How to make panoramic photographs.

The use of neutral density filters.

Golden and blue hour photography.

Correctly expose an image at night using a tripod. And if the night sky conditions allow shooting the stars and moonlight photography.
March 26 - 29 Sold Out
September 10 - 13 2x Spots left
February 26 - 29 5 Days
October 20 - 24 5 Days
February 9 - 13 5 Days
September 21 - 25 5 Days
Make memories and capture moments with us.
Register your interest today!
WORKSHOP DETAILS
WHO IS THE PHOTO TOUR FOR?
Anyone with an interest in photography, regardless of age, skill level, or equipment – you just need a sense of adventure and an eagerness to learn. Whether you are just brought your new camera or a professional photographer, you will come back with great images and a deeper understanding of the photographic medium.
- Fun and enjoyment of photography and outdoors
- Photography Enthusiasts Who Want To Expand Their Skills.
- Suitable for complete beginners to serious amateurs.
*All experience level welcome.
*Photographers under 16 must be accompanied by an adult.
WHAT TYPE OF INSTRUCTION IS OFFERED?
Our tours are not workshops, with classroom instruction each day; rather, they are journeys of discovery that take you to great photographic locations with wonderful opportunities for informal, hands-on learning, that takes place through personal tutoring sessions, discussions around the dinner table, impromptu lectures or demonstrations, and while photographing in the field.
Each photo leader has years of experience in photographic education, and each has his or her own philosophy and style. They will help you see the world with new eyes, and create images that reflect your unique experience.
We will explain depth of field, putting hyperfocal distance into practice, choosing the right lens and using your tripod and improving your workflow as well as how to approach a scene and order your composition and technique to get the shot you have in mind. The tour is primarily about developing your skills as a photographer and your images are our priority!
Image review/critique sessions will be included in a flexible manner as time allows (during bad weather, for example, we may spend more time indoors reviewing photos and discussing techniques, composition, and post-processing).
WHAT PHOTO EQUIPMENT SHOULD I TAKE?
* Digital SLR camera or Mirrorless camera
* Camera lenses preferably Wide-Angle lens, in addition, if you have: Telephoto, Zoom, or Macro.
* Fully charged battery and spare batteries (at least 2-3).
* Enough storage memory cards (empty).
* Stable Tripod.
* Camera remote control (shutter remote realise).
* Filters POL, ND and GND if you have any (we have some to borrow if you don't have your own).
* Headlamp or Torch.
* Hiking shoes and appropriate outdoor clothing & activewear.
* Physical fitness for daily hikes of approximately 1 - 4 hours.
* Bug Repellent, Sunscreen, Hut
* Lots of fun and energy.
* Intensive supervision by the workshop leaders
* Our Local experts show you the best Photo spots around Great Ocean Road and some unique locations (Photo shouting)
* Our Local experts are with you every step to help you master the challenges that lie ahead.
* Transport from and to Melbourne
* Accommodation (twin-share)
* Water
* Travel insurance
* Camera equipment and Items of personal needs
* Meals and drinks
*Airfares
We reserve the right to make any changes to the program as a result of the weather. It is a trip into nature and unfortunately, we have no control over the weather conditions on site. A superior and cautious behaviour to minimize the risk of injury is our first priority. Nevertheless, we would like to mention that all travel activities are at your own risk.
Insurance is in the responsibility of each travel participant. As the organizer and workshop manager, we are excluded from any liability. The workshop is conducted in all weather conditions. By registering for this course the participant confirms that he has understood this important information and thus accepts this clause.
Please note that by booking this tour you agree to necessary precaution to ensure the safety of all participants and our team. This includes:
• Maximum number of persons (inclusive tour leaders) as per government advised.
• Maintaining 1.5 meter social distancing.
• Access to hand sanitiser during the event.
• Gear in use will be cleaned before and after each event.
• Learning outcome will be provided by verbal explanation. Tour leaders will be unable to handle your camera.
Who should not attend (COVID SAFE)
• Anyone feeling unwell or awaiting COVID-19 test result.
• Anyone who has travelled overseas within 14 days.
• Anyone who has been in contact with any known positive COVID-19 person within the last 14 days
• Anyone at "great risk of serious infection" as described by the Australian Government as follows:
- People aged 70 years and over.
- People aged 65 years and over with chronic medical conditions.
- People with a compromised immune system.
By booking any tour or workshop with We Are Raw Photography, you agree to cooperate with all requirements and confirm you do not fall within one of the above listed categories. If your situation changed between booking your event and the day of the event, please notify us.
MEET THE TEAM TO TAKE YOU THERE!
Holiday with We Are Raw Photography Tours
The Twelve Apostles and Gibson Steps - Great Ocean Road, Australia
Gibson Steps also called 'Gog and Magog' – Part of the Twelve Apostles Limestone structures photographed at sunset at our Great Ocean Road Photography Tours.
Lower Kalimna Falls - Lorne, Great Ocean Road, Australia
Lorne along the Great Ocean Road is not only well known for there great restaurants and surf beach, but there is also more to explore hinterland! One of the most unique waterfalls in Lorne is Lower Kalimna Falls.
Razorback and Tom and Eva - Loch Ard Gorge near Port Campbell, Great Ocean Road, Australia
The Razorback is a unique seascape rock formation sitting out down near the twelve apostles along the Great Ocean Road in Victoria. We were lucky enough to get this dramatic sky in our image taken at our last Great Ocean Road Photography Tour. We love the blue-greenish tones in the water and the way the white wash swirls around the Razorback.
Bay of Islands - Peterborough, Great Ocean Road, Victoria, Australia
The pale limestone of this section of coast reflects a different quality of light and offers superior photographic opportunity in overcast conditions. Highly underrated!
Hopetoun Falls - Beech Forest, Great Ocean Road, Australia
Perhaps one of the most unique and picturesque waterfalls in Victoria, it's easy to be enticed and drawn in by the beauty and awe of Hopetoun Falls. Located within the Great Otway National Park, the Aire River twists and turns until it roars over this deep escarpment towards the valley floor – abundant with vibrant ferns and moss-covered rocks.
Develop your vision and enhance your photos while having a fun and enjoyable time during the journey.
OUR TEAM IS FULLY BILINGUAL (ENGLISH, GREEK, GERMAN) AND WE'RE PASSIONATE ABOUT OUR OWN PHOTOGRAPHY. It is our mission to offer you the best value As your photography comes always first!
REGISTER FOR OUR COURSE TODAY!
ONLY 4-6 SPOTS AVAILABLE!
Looking for something more private?  We make your private adventure happen! And If the dates don't suit you, Join our waiting list or consider a 1 on 1 personalized photography session. If you think that would suit you then CHOOSE FROM BELOW.