Photography Tour OVERVIEW
Three-day Great Ocean Road Photography Tour.
Group size
up to 8 Guests
Photographing at Victoria's Great Ocean Road is always a great challenge. Unpredictable weather, exceptionally moody light and wild terrain all create the perfect base on which a landscape photographer has to be most creative.
For this Great Ocean Road Photography Tour we are traveling in a comfortable air-conditioned vehicle and doing a circuit trip along the Great Ocean Road and around the extraordinary coast of Port Campbell, 12 Apostles, Gibson Steps, Loch Ard Gorge, The Razorback, The Island Archway, Hopetoun Falls, the Californian Redwood forest and more. This tour begins and ends in Melbourne.

With over 30 years of experience in the photographic industry, award-winning professional photographer George Triantafillou and Karolin Schild are guiding you to the best photo spots around Great Ocean Road and some unique locations.

We meet on Friday (Meeting Point) at Port Campbell,  (opposite the rocks caffee) and start our journey at 17:30 pm for a sunset photography workshop along the Great Ocean Road.

At the following days after photographing and watching the sunrise Saturday morning, we will visit variouse amazing photography opportunities along the coast and inland.

We finishing the day with photographing the sunset at the 12 Apostles.

Sunday you can have a sleep in and we start our journey towards Lorne 09:30 am where we will end the workshop after our last sunset.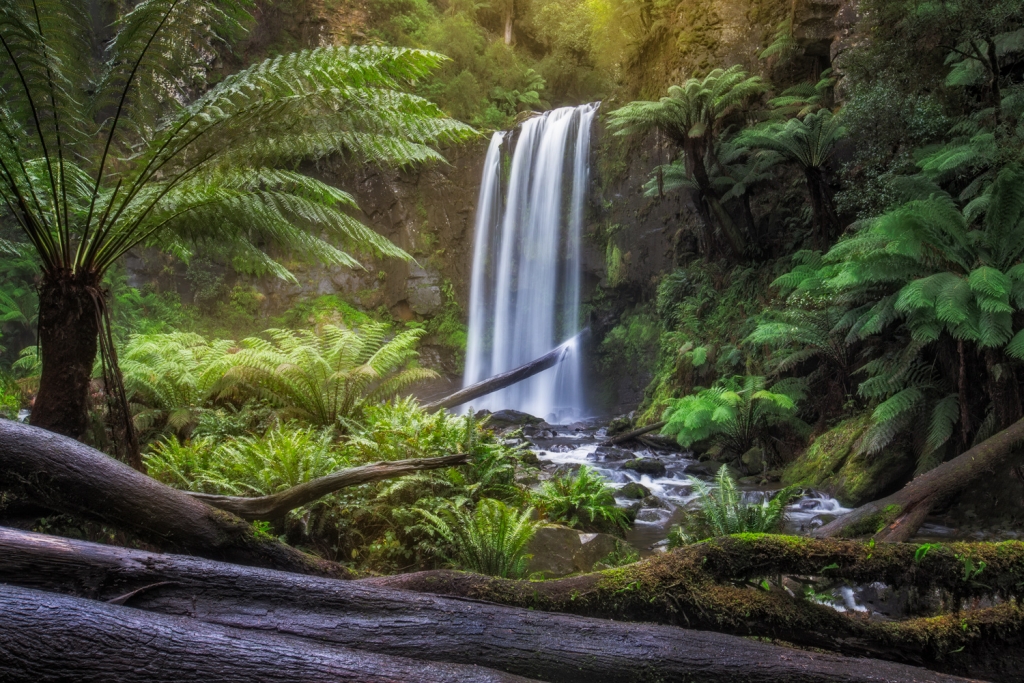 What to expect :
GET PHOTOGRAPHY TIPS, TECHNIQUES, AND INSPIRATIONS
How to photograph stunning waterfalls.

When and how to use a polarizing filter.

How to prevent lens flare.

Long exposure techniques – playing with shutter speeds for different effects.

Understanding lens distortions and strategies.

Composition inspirations and Equipment advice.

How to make a picture look more interesting and exciting.

Balance your photos for better results.

Understanding different light conditions.

How to make panoramic photographs.

The use of neutral density filters.

Golden and blue hour photography.

Correctly expose an image at night using a tripod. And if the night sky conditions allow shooting the stars and moonlight photography.
WORKSHOP DETAILS
Friday, Saturday and Sunday, December 20 - 22, 2019
Around the coastline Great Ocean Road, Port Campbell and Lorne, Victoria, Australia.
Base and Meetpoint: Port Campbell, Carpark in front of 12 Rocks Beach Bar Cafe, 19 Lord St, Port Campbell VIC 3269
Flexible self Accommodations
Our flexible accommodation options are perfect for everyone to suit your needs.
We understand that everyone has its own preference and perceptions on how to sleep. Some like to sleep in a luxury hotel, some like bed and breakfast and others love to sleep under the stars and camping. It is our aim to offer a level of convenience and flexibility and we let you choose your own accommodation.
Flexible self Transportation
To your flexibility, we offer this workshop as self-drive so you can decide if you want to stay longer after the workshop or arrive earlier in the region and make the most out of the weekend. We may need your assistance and might ask independent drivers to take an additional passenger or two in their own vehicle, if the need arises. We don't anticipate any difficult or hazardous driving conditions on main road. Towards the end to the waterfalls an unsealed road is expected.
All experience level welcome.
- Fun and enjoyment of photography and outdoors.
- Photography Enthusiasts Who Want To Expand Their Skills.
- Suitable for complete beginners to serious amateurs.
Whether you use a phone, digital camera, mirrorless camera or analog camera, you're are going to have fun on our photo adventures!
Let us take you to the best shooting spots and give you expert feedback on your work.
*Photographers under 16 must be accompanied by an adult.
Fitness Level / Difficulty:
- Moderate. Some easy to extensive walking required on uneven terrain.
What do I bring on the day?
* Digital SLR Camera or mirrorless camera (Not Smartphone or Point & Shoot)
* Wide Angle lens, in addition, if you have: Telephoto, Zoom, and Macro.
* Fully charged battery and spare batteries (at least 2-3).
* Enough memory cards.
* Stable Tripod.
* Storage memory cards (empty).
* Camera remote control (shutter release).
* Filters (Pol-, nd-,gnd-, etc) (we have some to borrow if you don't have your own)
* Headlamp or Torch.
* Hiking shoes and appropriate outdoor clothing & active wear.
* Physical fitness for daily hikes of approximately 2 - 3 hours.
* Bug Repellent, Sunscreen, Hut
* Water and snacks
* Lots of fun and energy.
What to expect on the course?
• The relationship between Aperture, Shutter Speed and ISO
• Mastering The Shooting Modes of Your DSLR Camera
• How can I exploit the possibilities of my camera?
• Try different Lens, which one is best for the type of picture you're taking?
• Shooting in Raw
• Where to focus
• Depth of field
• White balance
Seascape specific lessons.
Composition in seascapes.
Equipment for seascape photography.
Long exposure and soft water seascapes (including the use of neutral density filters).
Panoramas.
Balance your photos for better results
Golden and blue hour photography.
Correctly expose an image at night using a tripod. And if the night sky conditions allow shooting the stars and moonlight photography.
* Intensive supervision by the workshop leaders
* Our Local experts show you the best Photo spots around Great Ocean Road and some unique locations (Photo shouting)
* Our Local experts are with you every step to help you master the challenges that lie ahead.
* Saturday breakfast after sunrise inclusive 1 coffee
* Snacks provides
* Water
* Accommodation
* Transport
* Travel insurance
* Visa
* Camera equipment and Items of personal needs
* Meals and drinks (Saturday breakfast + 1 coffee included)
We reserve the right to make any changes to the program as a result of the weather. It is a trip into nature and unfortunately, we have no control over the weather conditions on site. A superior and cautious behaviour to minimize the risk of injury is our first priority. Nevertheless, we would like to mention that all travel activities are at your own risk.
Insurance is in the responsibility of each travel participant. As the organizer and workshop manager, we are excluded from any liability. The workshop is conducted in all weather conditions. By registering for this course the participant confirms that he has understood this important information and thus accepts this clause.
If the weather condition on the day of the workshop it is unacceptable that we cannot run it you can either,
• Reschedule to another workshop.
MEET THE TEAM TO TAKE YOU THERE!
Enhance your photos while having a fun and Unforgettable time during the journey.
OUR TEAM IS FULLY BILINGUAL (ENGLISH, GREEK, GERMAN) AND WE'RE PASSIONATE ABOUT OUR OWN PHOTOGRAPHY.
REGISTER FOR OUR COURSE TODAY!
ONLY 8 SPOTS AVAILABLE!
If the dates don't suit you, then consider doing a 1 on 1 photography session. They can be a lot better as well. If you think that would suit you then click here.