TOUR HIGHLIGHTS
6 day's Tasmania Photography tour
Make memories and capture moments with us.
Welcome to our 6-day Tasmania Photo Tour, where you'll discover the natural beauty of this stunning island from Launceston to Hobart. Our expert guide from WeAreRawPhotography will lead you on a journey through Tasmania's most breathtaking locations, including Cradle Mountain, Dove Lake, Bay of Fires, and Freycinet National Park. With our small-group tours, you'll receive one-on-one attention and tuition to help you capture the perfect shot every time. We provide everything you need, from accommodation and transportation to park entries and permits, so all you need to do is bring your camera and a spirit of adventure. Don't miss this incredible opportunity to explore Tasmania and create unforgettable memories and stunning photographs that will last a lifetime. Book now with Wearera Photography and start your journey today!
6 full days on tour in Tasmania.

Explore the Best of Tasmania.

Maximum group of 4 People.

Dedicated photography tour created by passionate photographers.

World class photography instruction


Photoshop and Lightroom Tuition along the way.
Some of the darkest skies in the world for potential Milky-Way or Star trail photography.

Travel in our comfortable spacious vehicles. We drive -> you relax.

Our team is fully bilingual (English, Greek, German) and we're passionate about our own photography. 
Image review/critique sessions will be included in a flexible manner as time allows (during bad weather, for example, we may spend more time indoors reviewing photos and discussing techniques, composition, and post-processing).
19th May - 24th May
25th August -30th August
11th May - 16th May
31th August - 5th September
Its All about you and your photography!
          Meet the team to take you there!
TOUR IN DETAIL
Imagine waking up to the tranquil beauty of Dove Lake, nestled within the majestic Cradle Mountain, and capturing the first light of day as it illuminates the landscape. Picture yourself hiking through the pristine wilderness of Freycinet National Park and watching the sunrise over the crystal-clear waters of Wineglass Bay. Or, standing in awe at the vibrant orange lichen-covered boulders of Bay of Fires, which stretch for over 50km along Tasmania's east coast.
Our 6-day Tasmania Photo Tour offers all of this and more. Led by the expert team at WeAreRawPhotography, this tour will take you on a journey through Tasmania's most breathtaking locations.  Our expert guide will take you to the best vantage points and provide one-on-one tuition to help you capture stunning landscape shots with the perfect composition, lighting, and depth of field.
Long exposure photography opportunities abound in Tasmania, from the flowing streams and waterfalls of Mount Field National Park to the crystal-clear waters of Wineglass Bay. Our guide will teach you how to use filters and other techniques to create stunning long exposure images that capture the movement and energy of the landscape.
At night, you'll have the opportunity to capture the stars and the Milky Way in all their glory. Our guide will take you to the best locations for night sky photography and teach you how to capture the stars using long exposures and other techniques. You may even have the chance to capture the Aurora Australis if conditions are right.
You'll also receive expert post-processing tuition, learning how to edit your images using Lightroom and Photoshop, ensuring that your photographs look their best.
Welcome and Golden Hour Photography
Day 1: Launceston to Cradle Mountain and Dove Lake
Arrive in Launceston and meet with your photo guide and group
Travel to Cradle Mountain and explore the area around Dove Lake
Capture photos of the stunning scenery, including the mountain, lake, and surrounding wilderness
Overnight in the Cradle Mountain area
Day 2: Dove Lake and St Helens/Binalong Bay
Wake up early for a sunrise photo shoot at Dove Lake
Explore more of the area around Cradle Mountain if time permits
Transfer to St Helens on Tasmania's east coast
Capture the sunset at Binalong Bay, known for its beautiful beaches and orange lichen-covered rocks
Overnight in the St Helens/Binalong Bay area
Waterfall photography is the focus of the day!
Day 3-4: Bay of Fires and Binalong Bay
Spend two days exploring the stunning Bay of Fires area, known for its white-sand beaches, clear turquoise waters, and red and orange lichen-covered rocks
Take advantage of the many photo opportunities, including landscape, seascape, and wildlife photography
Overnight in the St Helens/Binalong Bay area
Day 4: Bay of Fires to Freycinet National Park and Coles Bay
Wake up early for a sunrise shoot at the Bay of Fires
Transfer to Freycinet National Park, known for its pink granite mountains and stunning beaches
Capture the sunset at Coles Bay, a picturesque seaside village
Overnight in the Freycinet/Coles Bay area
Day 5: Freycinet National Park and Port Arthur/Eaglehawk Neck
Wake up early for a sunrise shoot at the Bay of Fires
Transfer to Freycinet National Park, known for its pink granite mountains and stunning beaches
Capture the sunset at Coles Bay, a picturesque seaside village
Overnight in the Freycinet/Coles Bay area
Every good journey has its end but friendships stay forever!
Day 6: Tessellated Pavement and Optional Mount William/Mount Field
Wake up early for a sunrise shoot at the Tessellated Pavement, a unique rock formation on the Tasman Peninsula
Transfer back to Hobart
Optional visit to Mount William or Mount Field National Park for waterfall photography, depending on the season and weather conditions
Tour ends in Hobart in the afternoon
(Please return not earlier than 16:00 PM)
Book your Phototour
No matter your skill level, or camera equipment, if you have a passion for photos and travel, we have the photo tour for you.
Why Travel with We Are Raw Photography?
We are passionate about our work and your dreams. Tour itineraries have been designed by photographers, for photographers. On our Photography Tours we take our time on the locations we visit so you get to explore the area for the best compositions and experience. Our goals are to provide you with a unique travel experience, to explore the world with a new vision.
With our in-depth knowledge of our destinations integrated with local culture places, you will find yourself in the best location at the best time. The majority of our clients travel with us year after year.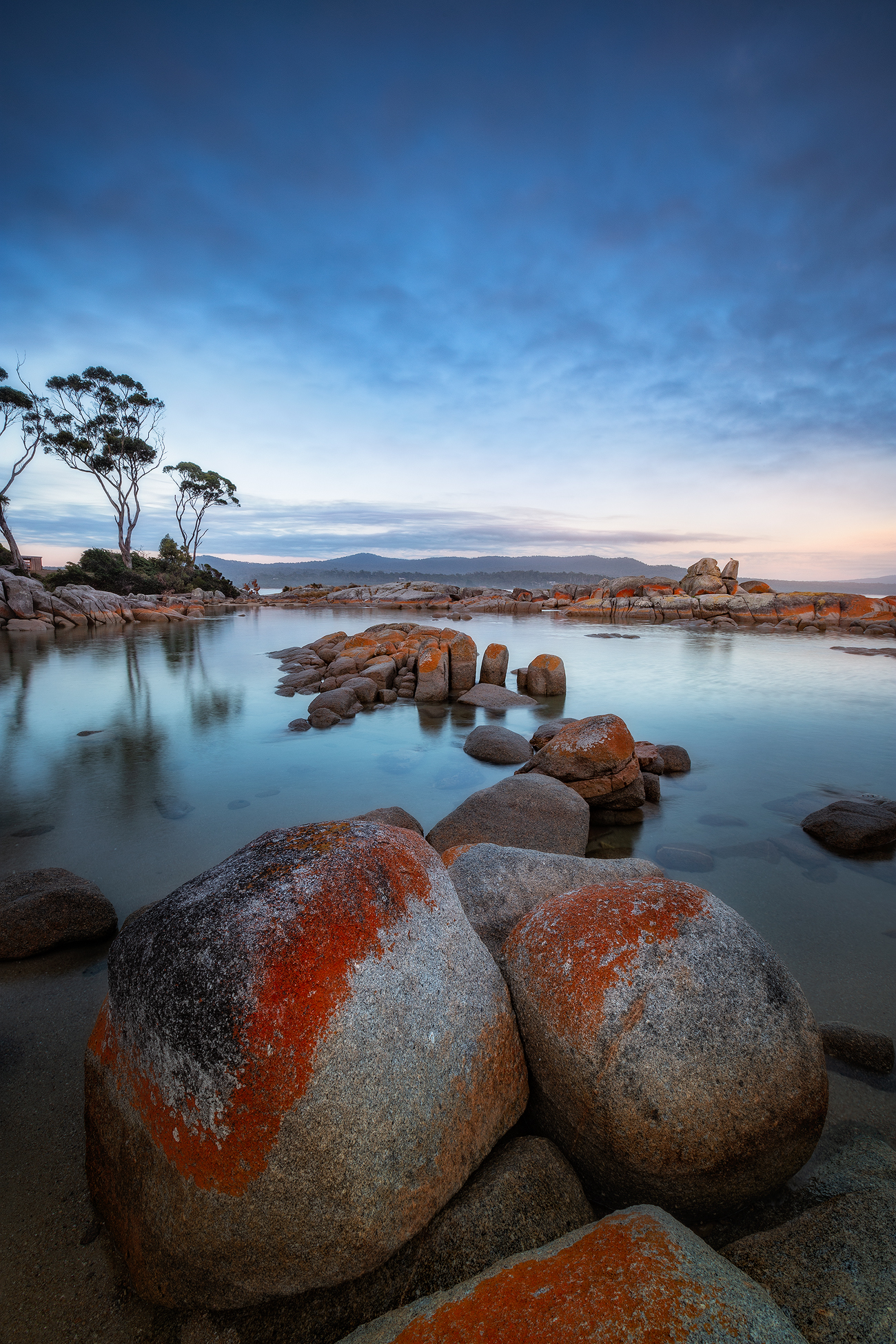 Who is the Photo Tour for?
This photo tour is for anyone who has a passion for photography and a willingness to learn, regardless of their age, skill level, or equipment. Whether you're a beginner who has just bought a new camera or a professional photographer, you'll be able to capture great images and gain a deeper understanding of the photographic medium. All you need is a sense of adventure and a desire to learn.
- Fun and enjoyment of photography and outdoors
- Photography Enthusiasts Who Want To Expand Their Skills.
- Suitable for complete beginners to serious amateurs.
WHAT PHOTO EQUIPMENT SHOULD I TAKE?
Here is a short checklist for you:
- DSLR or mirrorless camera
- Lenses (wide-angle, telephoto lens)
- Filters (such as polarizing filters, neutral density filters, and graduated neutral density filters)
- Sturdy tripod
- Memory Cards
- Batteries / Battery charger
- Camera remote control for shutter release
- Torch (for low-light situations)
- Cleaning utilities (such as a lens cleaning cloth or brush and cleaning solution)
- Camera Bag
Here are some general guidelines on what to pack:
Camera: You will need a camera to take photos, of course. It can be a DSLR, mirrorless camera, point-and-shoot, or even a smartphone with a good camera. The choice of camera also depends on your skill level and budget.
Lenses: If you are using a DSLR or mirrorless camera, consider bringing a range of lenses. A versatile zoom lens like a 16-35mm, 24-70mm or 70-200mm is a good choice for most situations. If you plan to shoot wildlife, a telephoto lens would be necessary.
Tripod: A sturdy tripod can be helpful for landscape and low-light photography. It keeps your camera stable and allows you to take long exposures.
Memory Cards: Bring multiple memory cards, and make sure they have enough space to store your photos.
Batteries: Carry extra batteries for your camera and ensure they are fully charged.
Filters: Polarizing filters can help cut glare and increase contrast in your photos. Neutral density filters can help you take long exposures even in bright sunlight.
Camera remote control for shutter release: A remote control allows you to trigger your camera's shutter without physically touching it. This can help you avoid camera shake and achieve sharp photos, especially when using slow shutter speeds or long exposures.
Torch: A torch or flashlight can be helpful for finding your way in low-light situations or for illuminating subjects in the foreground. It can also be used for light painting or adding creative effects to your photos.
Cleaning utilities: these are essential for keeping your camera and lenses clean and free from dust, smudges, and other debris that can affect image quality. A lens cleaning cloth or brush can help you remove any dirt or dust particles from your lenses, and cleaning solution can be used to remove any stubborn spots or fingerprints. It's a good idea to carry these cleaning utilities with you at all times to ensure your equipment stays in top condition.
Camera Bag: A good camera bag can protect your gear from damage and make it easier to carry.
Remember to pack light and only bring the equipment you think you will need.
No need to worry if you don't have filters or can't bring your tripod with you. We provide Astrolenses, filters, and tripods on all of our tours and workshops. Just reach out to us to make sure we can cover the lenses you'll be using. We want to make sure you have the best experience possible, so don't hesitate to get in touch with any questions or concerns. Feel free to reach out anytime and call 0414 222 958.
Your WeAreRawPhotography Team.
WHAT TYPE OF INSTRUCTION IS OFFERED?
Our tours are not structured workshops with formal classroom instruction every day. Instead, they are immersive journeys of discovery that take you to breathtaking locations with ample opportunities for hands-on, informal learning. Our experienced photo leaders provide personal tutoring sessions, engage in discussions around the dinner table, offer impromptu lectures or demonstrations, and provide guidance while photographing in the field.
Each of our photo leaders has years of experience in photographic education, and each brings their own unique philosophy and style to our tours. They will help you see the world with fresh eyes and create images that reflect your unique experience.
During the tour, we will cover a range of topics to help you improve your photography skills, such as depth of field, using hyperfocal distance, choosing the right lens, using your camera effectively, improving your workflow, approaching a scene, and ordering your composition and technique to achieve your desired shot. Our primary focus is on developing your skills as a photographer, and your images are our top priority!
FITNESS LEVEL REQUIREMENTS?
Our tours typically involve locations that are easy to medium difficulty, with the majority of locations being easily accessible. However, there may be some locations that require a moderate level of fitness, such as a one-hour return hike with moderate difficulty.
It's important to note that some locations may have slippery or snow-covered tracks, which could affect the level of difficulty and require additional caution. We recommend that you come prepared with appropriate footwear and clothing, and that you inform us of any physical limitations you may have so that we can make arrangements to accommodate your needs.
Our priority is to ensure that all participants can fully enjoy the tour, regardless of their fitness level. If you have any concerns about your ability to participate in a particular tour, we encourage you to contact us to discuss your options. We may be able to provide additional information or support to help you fully enjoy the tour.
What's included in this Photo Tour?
Our Photo Tour package includes:
- A 6-day, 5-night tour that starts in Launceston and ends in Hobart
- Expert photography guidance and instruction from our experienced photo leaders
- Transportation to and from all photography locations during the tour
- Accommodation at comfortable and conveniently located hotels or lodges
- Twin share accommodation for the duration of the tour
- Access to specialized photography equipment, such as filters and tripods, if needed
- Handouts and educational materials in digital form to help you improve your photography skills
- Small group sizes to ensure personalized attention and instruction
- Exploration of the best photo locations in Tasmania, including Cradle Mountain, the Bay of Fires and Wineglass Bay
- Opportunities for Milky Way or star trail photography in some of the darkest skies in the world
- Photoshop and Lightroom tuition provided along the way.
- A fun and supportive environment to learn and grow your photography skills
- Memorable experiences and stunning photographs that will last a lifetime!
What's not included in this Photo Tour?
Here are some items that are not included in this photo tour:
- Flights or transportation to Launceston and from Hobart
- Meals and drinks
- Personal expenses and travel insurance, camera insurance
- Photography equipment (except for filters, and tripods that might be available for use during the tour if needed)
- Gratuities for the tour guide and any other service providers.
We may modify the program due to weather conditions as the tour takes place in natural surroundings and we cannot control the weather. Our top priority is ensuring a safe and careful approach to minimize any risk of harm. Please note that all travel activities are undertaken at your own risk, and insurance is the responsibility of each participant. As the organizer and tour manager, we are not liable for any damages. The tour will proceed in all weather conditions. By registering for this photo tour, participants acknowledge and accept these terms.
It is advisable that you purchase travel insurance to protect your trip investment and yourself while traveling. According to our company policies we can't take responsibility for contingencies like flight cancellations, medical expenses, gear damage, loss of gear, accidents, natural disasters and extended stays to name a few.
Please note that by booking this tour you agree to necessary precaution to ensure the safety of all participants and our team. This includes:
• Maximum number of persons (inclusive tour leaders) as per government advised.
• Maintaining 1.5 meter social distancing.
• Access to hand sanitiser during the event.
• Gear in use will be cleaned before and after each event.
• Learning outcome will be provided by verbal explanation. Tour leaders will be unable to handle your camera.
Who should not attend (COVID SAFE)
• Anyone feeling unwell or awaiting COVID-19 test result.
• Anyone who has travelled overseas within 14 days.
• Anyone who has been in contact with any known positive COVID-19 person within the last 14 days
• Anyone at "great risk of serious infection" as described by the Australian Government.
By booking any tour or workshop with We Are Raw Photography, you agree to cooperate with all requirements and confirm you do not fall within one of the above listed categories. If your situation changed between booking your event and the day of the event, please notify us.
JOIN OUR 6-DAY JOURNEY TASMANIA PHOTO TOUR.
RESERVE YOUR SPOT BEFORE THE NEXT SUNSET!
ONLY 4 SPOTS AVAILABLE!
The shared accommodation cost for this photo tour is AU $3450 per person. If you prefer to have a single room, there is a single supplement of AU $750. To secure your spot for this photo tour, you have to deposit an amount of AU $650. For any inquiries, please reach out to us using the contact us form or call 0414 222 958. Payment can be made through bank transfer or PayPal.
​looking for something more private? We make your private adventure happen!  And If the dates don't suit you, Join our waiting list or consider a private PERSONALIZED photography tour. If you think that would suit you then CHOOSE FROM BELOW.